I just finished off a plate of chicken nuggets, caving into my late-night hunger. You may say that it's not good to eat chicken nuggets so late. I say that it's never really good to eat chicken nuggets, but they can be so darn tasty with some barbecue sauce.
My night was basically ruined by Roger Federer, who decided it'd be a good time to lose to Guillermo Canas for the second time in a month. I was at work, so I was unable to really focus on the match, but it seemed whenever I looked, Federer was hitting a winner or up in the game.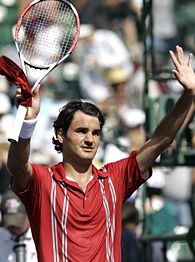 So how did this happen? Once I saw the final, I was totally discombobulated. How could I live in a world where the best tennis player of my generation, possibly ever, could lose two matches in a month, to an
unranked player
?!? I realize Canas was in the top ten a few years ago, but he's fallen off, mostly due to a doping ban. How can Roger lose to someone who had to serve a doping ban?!? It'll take me a little while to get over this. When's the next Grand Slam event? The end of May? damn. As long as Federer can win on clay and take the French Open, I'll be happy. (And I tried to find a recent picture of a sad Roger Federer to use here, but there is not one to be found. This was the best I could do, in that he's not holding a trophy)
In other sports news, Bruce Pearl has apparently said he's not interested in the Iowa head coaching position, so I'll take him off of my list. Billy Gillispie (yes, it's I-S, not E-S) moves into sole position at the top, but that's pretty much an honorary position. I don't really count on him coming here anymore than I thought Pearl would come here. And I'm not really sure on Tony Bennett, any talk of him coming here has basically stopped recently. I don't know if everyone was busy talking about Pearl, but it seems strange to me. So that means Chris Lowery could make a big leap in my ranking. I'm sold on is defensive coaching ability, but not sure how his slow-down offense would fit in with the fans here. It'd be nice to see a better offensive team. But, as the saying goes, defense wins championships. I'd like to think a good point guard helps, though. (can Tony Freeman step up and take the reins? We'll find out next season) Rick Majerus is also climbing, but I feel we'd have someone being "groomed" to take the job over soon (BJ Armstrong?!). Others I have mentioned (Kevin Stallings, Dana Altman) are still in my consideration (as if I have a say in it).
I just want them to hire someone so everyone can stop talking about it, myself included. I'll post more stuff tomorrow, not related to Iowa Hawkeye basketball, I promise. Also, I'll try to check "Lost" out, so I can appease a possible new reader, who apparently thinks I should tackle this show and give it a review. We'll see. (Only because his name is Chris. That's a weakness of mine; I have a soft spot for Chrises worldwide.) Actually, it may be interesting to post some reviews of a show that's been out for a while now that I've never seen. More to come. . .
One last quick thing, I talked with a certain Adam (Johnny Austin) about the possibility of my moving to Austin, and he was all for it, and made me very excited. Could Austin pull into the lead? Well, it's got a pretty good music scene (you may have heard of one of the music fests there.... something by something... North by Northwest? no, that was Hitchcock... I'll have to Google it, I guess.), some good college sports, but nothing professional, so I'd still be a few hours away from a Major League Baseball team.
Jad
made a pretty good point about Portland, baseball abounds, and a pretty rockin' music scene. That's actually where I may want to end up eventually. I've also decided that I need to make a stop in Boise, ID. My reasons are long and convoluted (one reason is potatoes, I'm not going to lie), but I just thought I'd get it out there: Boise, I'm coming, eventually.